Facilities

We have various leisure facilities, including karaoke, table tennis, a game arcade, outdoor pool, bar, and party rooms, offering you a chance to feel the unique atmosphere of a Japanese-style hotel. We also provide free Wi-Fi access around the lobby. Wheelchair ramps are located at the front entrance and large bath areas for our elderly guests and guests with wheelchairs. A barrier-free room is also available. Please call us for more details (service in Japanese only).
| Japanese-style Rooms | Japanese-Western-style Rooms | Total Number of Guest Rooms |
| --- | --- | --- |
| 109 rooms | 6 rooms | 115 rooms |
| | |
| --- | --- |
| Standard Guest Room Accommodations | Bathroom, Washroom, Shower, Air-conditioner, TV, VCR or DVD player (extra fee), Refrigerator (some beverages will be charged upon consumption) |
Accepted Credit Cards: JCB, VISA, MASTER, AMEX
Standard Check-in Time: from 3 pm
Standard Check-out Time: until 11 am


Meeting Facilities and Banquet Rooms
We have meeting facilities and banquet rooms that accommodate one of the largest number of persons in Kaga Onsen.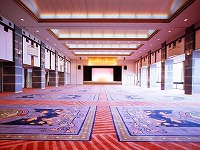 Convention Hall (Queen Elizabeth)
600 persons (seated dining),
1,200 persons (standing buffet)
Medium Meeting Room
(Moareiku)
60 persons (seated)
Small Meeting Room (Passage)
20 persons (seated)
VIP Room (Royal Ship)
20 persons (seated)
Guest Rooms
We have two buildings: Kirara-kan and Yurara-kan. The Kirara-kan building includes deluxe-type guest rooms on the fifth to seventh floors, while the Yurara-kan building includes standard-type guest rooms on the second to ninth floors.
You can enjoy the beautiful view of Shibayama-gata Lagoon from every guest room. The mesmerizing view of the shining water of the lagoon will take you away from the worries of everyday life. Each guest room is equipped with a washlet (a toilet seat with a washing feature).


Japanese-style room with an open-air bath in Kirara-kan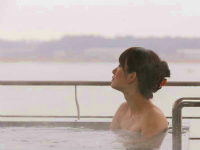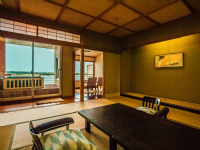 Room size: Entrance space, main room (15 tatami mats), lounging area
With an open-air bath and two Japanese-style rooms, this guest room offers a spacious relaxing atmosphere.
Deluxe Japanese-Western style room in Kirara-kan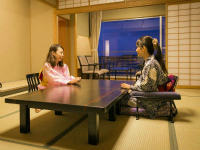 Room size: Entrance space, main room (12 tatami mats), two bedrooms, lounging area
You can relax in the bedrooms as well as in the main Japanese room.
Deluxe Japanese-style room in Kirara-kan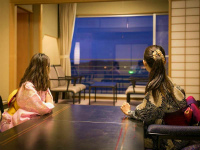 Room size: Entrance space, main room (12 tatami mats), lounging area
This guest room has better features than the standard Japanese-style room, with a larger room and a view of the roof-top garden.
Standard Japanese-style room in Yurara-kan